How to Make Manufactured Sand
Our company produces a full set of sand production line equipment to provide you with comprehensive technical support. The sand production line usually consists of vibrating feeder, jaw crusher, vertical shaft impact crusher (sand making machine), vibrating screen, sand washing machine, belt conveyor, centralized electric control and other equipment; the design output is generally 50-500 tons per hour. After several years of development and research, our company has designed a full set of sand making production line by matching the standard straight-through impact crusher (sand making machine) with other series of products of our company. The complete set of sand making production line equipment designed and produced by our company can be used for aggregate and artificial sand making production of hard limestone, granite, basalt, river pebble, smelting multi slag and other materials, which is suitable for application in hydropower, building materials, highway, urban construction and other industries. We can combine various types of equipment according to different process requirements to meet the different process requirements of customers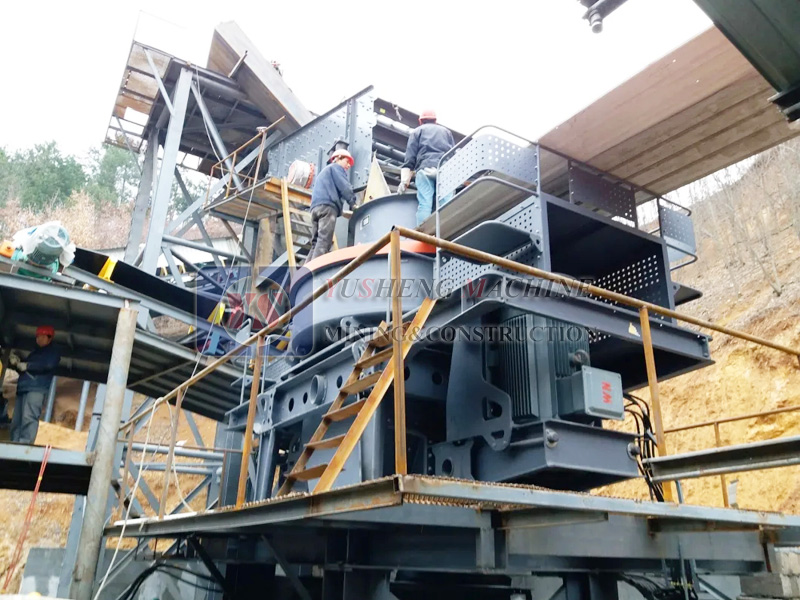 I. Introduction to the basic process of sand making production line
The stone is evenly sent to the jaw crusher by the vibrating feeder for coarse crushing, and the coarse crushed material is sent to the sand making machine by the belt conveyor for further crushing, the finely crushed material is sent to the vibrating screen for screening, and the material that reaches the finished size requirement is sent to the sand washing machine for cleaning, and the finished product is output by the finished product conveyor belt after cleaning, which is the finished product; the material that does not reach the finished size requirement is returned to the sand making machine from the vibrating screen for reprocessing. Form a closed circuit for many times. The size of the finished product can be combined and graded according to the user's needs. If you choose the dry production process, it can be equipped with coarse and fine powder separator and dust removal equipment.
II. Sand production line performance introduction
The sand production line has a high degree of automation, low running cost, high crushing rate, energy saving, high output, less pollution, easy maintenance, and the produced mechanism sand meets the national construction sand standard, with uniform particle size, good grain shape and reasonable grading. The sand making production line equipment configuration is mainly based on the customer's stone specifications and production and stone use to determine, we provide pre-sales, sales, after-sales comprehensive service, according to customer production site to configure the process, and strive to achieve the most reasonable, the most economical production line for customers!