There are two ways to move the mobile stone crusher, one is that it has its own walking device, and the other is that it does not have walking device and is towed by auxiliary equipment when walking. Here we are talking about mobile stone crusher with walking device.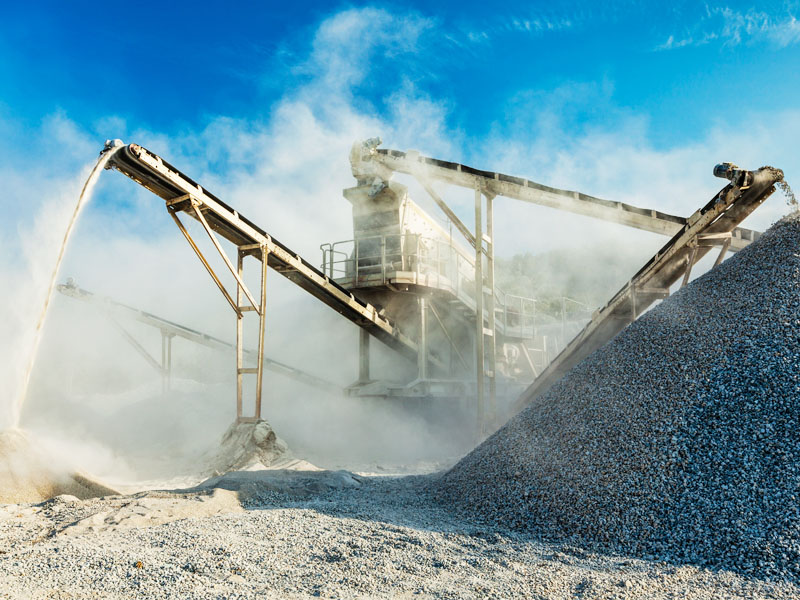 Because the mobile stone crusher has its own walking device, it can move with working face, and the materials mined by electric shovel and front loading machine can be directly unloaded into the receiving device-receiving bin carried by the mobile crusher. After crushing, it is transferred to the belt conveyor and transported out of the pit. Therefore, the application of mobile stone crusher can completely cancel automobile transportation. The cost of car transportation is high, which usually accounts for more than 50% of total mining cost. The energy efficiency of fuel oil consumed by automobile transportation is low, of which 60% of the energy of fuel oil is used to move its own weight. Compared with automobile transportation, belt conveyor transport consumes high energy efficiency, only 20% is used to move the weight of its own belt, and the labor intensity is low, so it can replace "oil" with "electricity" and is less affected by oil prices. At the same time, because the automobile transportation is intermittent, the electric shovel can't give full play to its capacity. For example: two electric shovels with bucket volume 4.2m3, the efficiency of automobile transportation is 5000t/ shift, while when mobile crusher and belt conveyor are used for continuous production, the efficiency of electric shovel exceeds that of 9000t/shift, increasing by almost 80%. In some European countries that use mobile crushers, when other auxiliary cleaning equipment is not used, the efficiency of equipment is increased by 50%. Therefore, the combination of mobile crusher and belt conveyor system is one of the most effective ways to reduce energy consumption and mining cost. (in general, mobile crushers are used in medium hard rock and hard rock open-pit mines.) since the 1950s, some foreign hard rock open-pit mines began to use mobile crusher and belt conveyors for continuous production. Mobile stone crushers are more and more widely used.
In 1965, the first large mobile stone crusher was first used in West German quarries. Since then, more and more mobile stone crushers have been used in some open-pit mines in European countries. Before 1969, 24 sets of mobile stone crusher were put into production, while 38 were used in 1969 alone.
In the United States, few mines used mobile crusher in the past, and large mobile crushers were subsequently developed in the United States and Canada due to the successful use of mobile crusher in some European countries. By 1968, 40 mobile crushers were used in American open-pit mines with a capacity of 300-500tph. The maximum capacity is 2500tph.
Similarly, the Soviet Union is also making great efforts to develop mobile crusher. For example, the CIIA- 1000 (1000 tons per hour capacity) mobile crusher manufactured by the Ridanov factory was tested in the Turliak limestone open-pit mine. The production process of the mobile crusher belt conveyor has increased the labor productivity of workers by 2-3 times and reduced the product cost by 25-30%.Up to now, mobile crusher is playing a more and more important role in the field of mining, road construction, bridge, building material, hydropower station, quarry and so on.